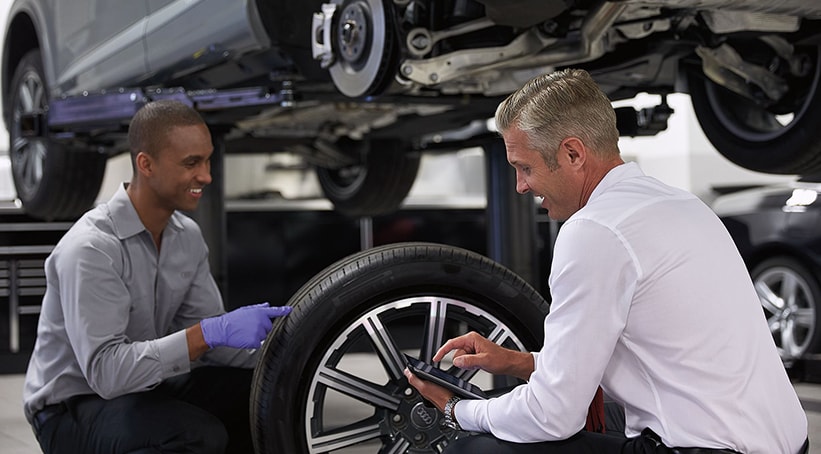 Looking for an Audi-Certified Mechanic Near Me? 
Leave your stress behind and feel confident when entrusting your vehicle to the capable hands of our Audi-certified technicians based in Latham, NY. Our Audi Albany Service Center will get you and your Audi back on the road and running at peak performance for your next adventure. Our location is ideal for all customers in Latham, or near the Albany and Glenmont areas, who are looking to schedule routine or emergency maintenance with an Audi-certified mechanic.
Schedule Certified-Audi Maintenance in Latham
Easily Schedule Service With an Audi Mechanic 
At our Audi Albany Service Center, we understand that you can't leave your Audi's repair to just anyone. We have a reputation for keeping things straightforward and simple. Our Audi repair work, always performed with an excellent level of quality and care, speaks for itself. Our technicians are experienced, ASE, and I-CAR certified. This means they're required and highly motivated to stay ahead of the latest in all things Audi vehicle, tool, and equipment technology. 
What it Means to be Audi-Certified with Audi Albany
The National Institute for Automotive Service Excellence (ASE) is an organization that certifies professionals and dealerships in the Audi retail, repair, and service industries. The organization aims to improve the quality and consistency of vehicle repair and service through the testing and certification of repair and service professionals. With only 20% of body shops currently meeting the I-CAR Gold Class® standard, our Audi specialists carry out proper repairs that ensure the safety and structural integrity of your Audi investment. With ASE's blessing, our mechanics are Audi-certified: so you're sure to get the best service possible for your model.
Schedule Certified-Audi Maintenance in Latham
Schedule Audi Maintenance Today in Latham, NY
Have a question or concern regarding the health of your Audi? Don't hesitate to contact us online or by phone today! We're proud to serve you and yours in Latham at our conveniently located Audi Albany Service Center.