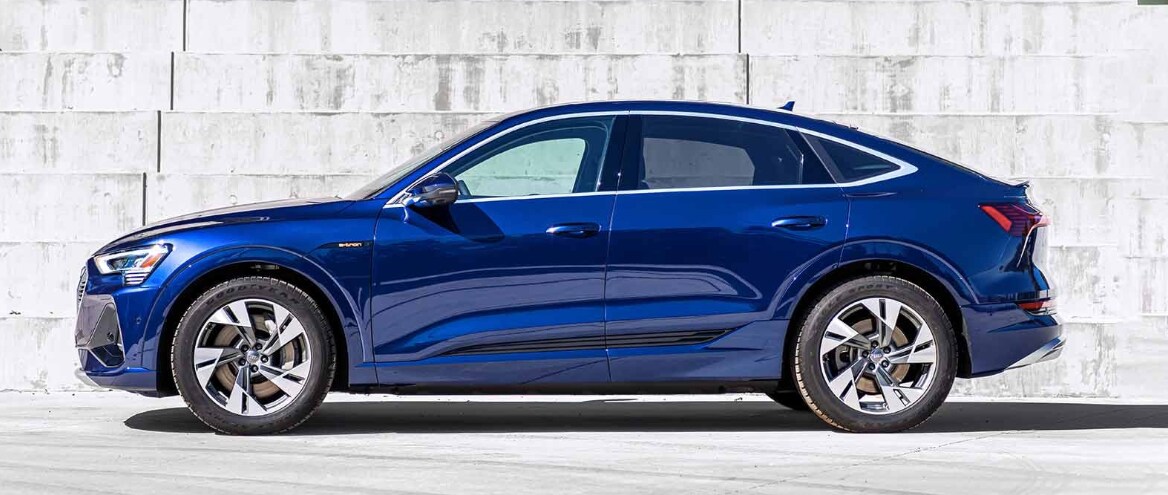 Wondering what's the difference between the Audi e-tron® SUV and the Audi e-tron® Sportback? Audi Albany in Latham has you covered: read on to learn more!
The Audi e-tron® Sportback leans further into a sporty, sharp, athletic look than its sister model, the Audi e-tron® SUV, a vehicle concerned with providing the smoothest ride and design for stress-free, everyday life. 
After judging each book by its cover, beneath the hoods shoppers can see that the e-tron SUV offers five specification grades, while the dynamic Sportback with an S line grade base (a more aggressive body kit) offers three. 
Lastly, the interior design differences of each model are subtle. Both models offer an impressive amount of trunk storage, with the e-tron SUV offering slightly more than the Sportback. 
Audi Albany Knows the Difference Between The e-tron® SUV and The e-tron® Sportback
The Audi e-tron® SUV
No body-colored rear spoiler
Full paint finish
Aluminum door sills
Light cloth headliner
Slightly larger mid-size SUV
The Audi e-tron® Sportback
Body-colored rear spoiler
No full paint finish
S line® aluminum door sills
Black cloth headliner
Mid-size SUV
Audi e-tron® SUV and Sportback Similarities
Each model is built with the planet in mind. This planet-first approach is responsible for both models' sport dual electric motors that offer 402 horsepower, 490lb torque, and can accelerate from 0 to 60 MPH in 5.5 seconds. When it comes to charging, each can be completely recharged in about 10 hours. Speedy, sporty, spicy, and especially made to combat climate change and increase convenience, each model has something amazing to offer.
Learn More About Differences Between Audi e-tron® Models at Audi Albany in Latham
Whether you're located in Latham or near Saratoga Springs, don't hesitate to contact our dedicated Audi Albany team online or visit us personally at our conveniently located Audi dealership to find out more about the differences, both large and small, between Audi e-tron® models.